Caught
10 Sep - 6 Oct 2019 | Miaja Gallery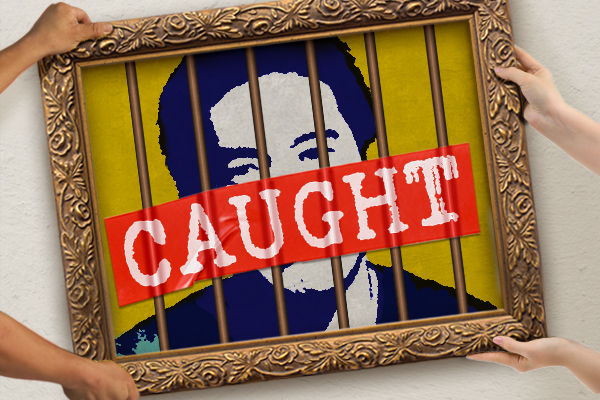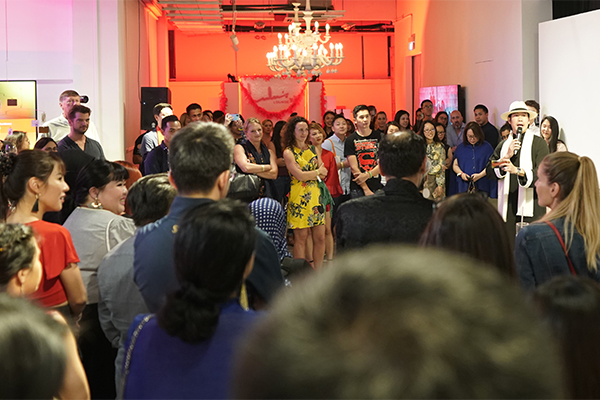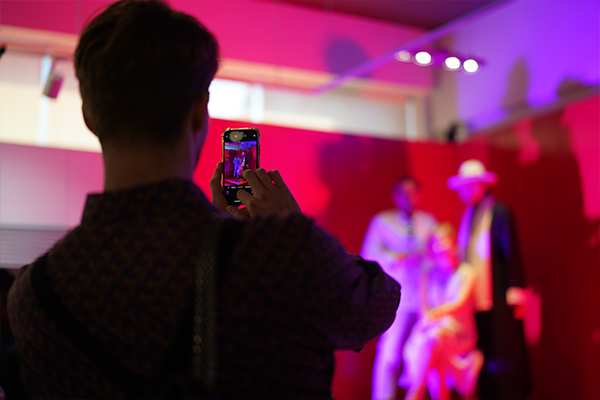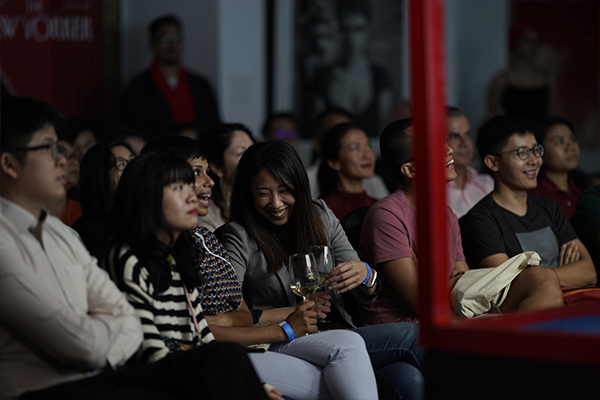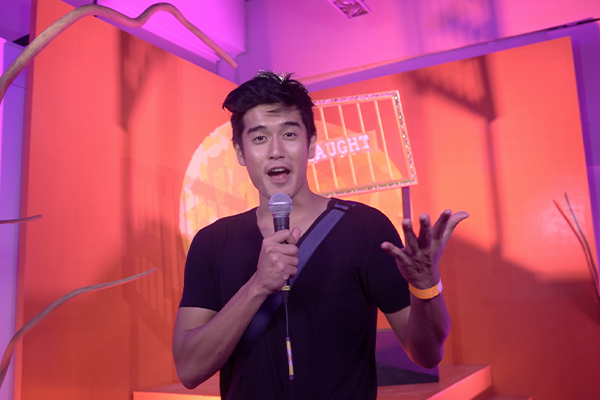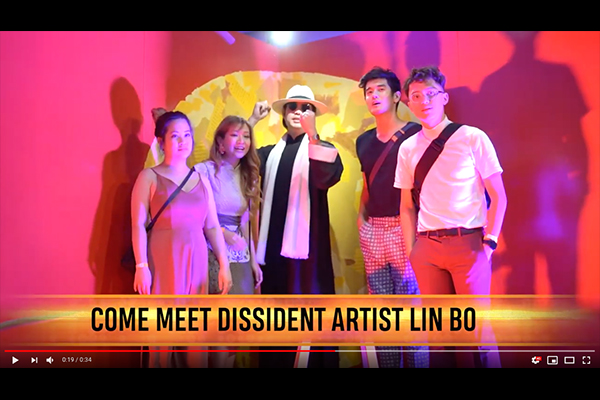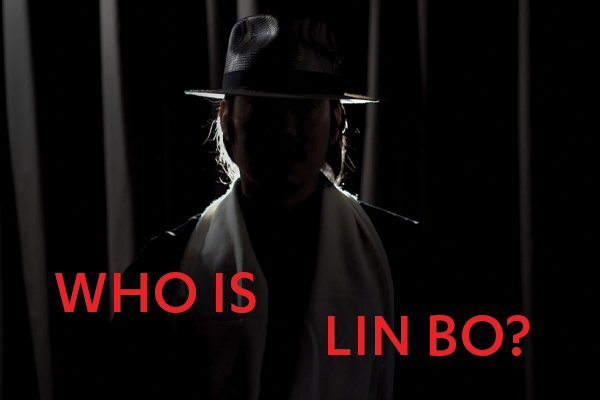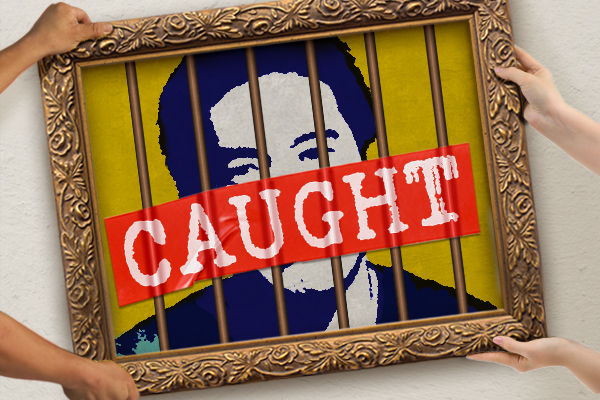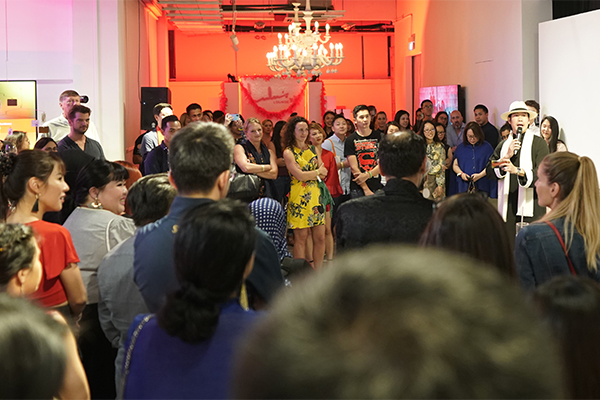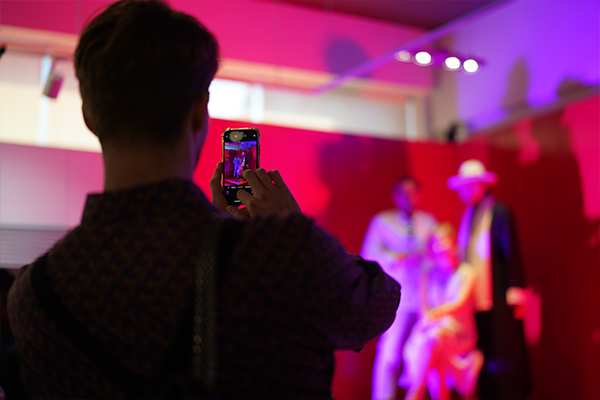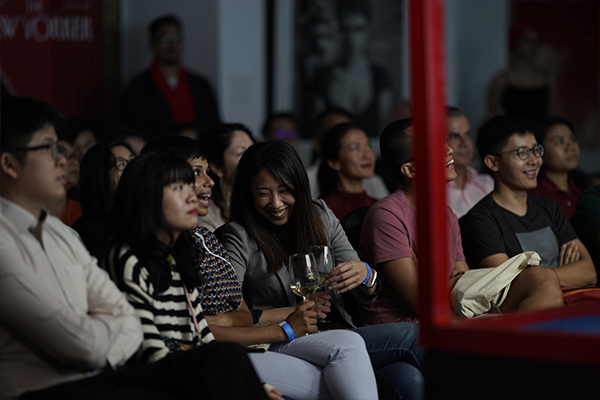 You arrive at an art gallery.
You order a bespoke cocktail from a pop-up bar by Lulu's Lounge.
Soon you're chatting with new friends.
You take in a specially curated exhibition.
And then, you meet the fugitive, Lin Bo:
a Chinese dissident
who survived two years in a detention center.
His crime? A work of art.
You are now Lin's captive audience member;
the only way his story can live on.
Your evening is just beginning.
Welcome to CAUGHT,
SRT's ground-breaking socially-immersive experience,
where the play is the party, and the party is the play.
---
Complete your CAUGHT experience with:
Bespoke cocktails crafted by Lulu's Lounge,
Singapore's most intriguing and innovative nightclub scene
& Scandinavian hotdogs from Fung Kee (豐記) Hotdogs.
Available at Miaja Gallery during performances of CAUGHT.
---
"You've read the New Yorker article.
You've heard all of your artist friends talk about him.
Now you can hear Chinese dissident artist Lin Bo speak
about the work that got him jailed back home."
- Los Angeles Times Critics' Pick
Within a regime that smothers free speech and gives breath to fake news, one voice dared to speak the truth. But, there are two sides to every story; and, when the stakes are survival, who's to judge what's fact, and what's fiction?
Anointed by The New Yorker as our generation's most subversive performance artist, Lin Bo became an international media sensation after his escape from captivity. In honour of his release, SRT commissioned Drama Desk award-winning director Ed Sylvanus Iskandar to create an immersive evening, featuring an exclusively curated art exhibition. Now a fugitive, Lin will travel to Singapore to give a mystery performance, using text created by OBIE award-winner Christopher Chen, which he describes as: "The idea itself is the art."
Enter a labyrinth where reality and fantasy blend into an incisively funny, mind-bending, and compulsively addictive experience where things are not as they first appear.
Never stop questioning the truth.
Never stop questioning the story.
How far down the rabbit hole are you prepared to go?
"Part immersive theatre, part performance art,
part installation, part thrust theatre,
part food and drinks, and pure play,
this exhilarating look into
politics, propaganda, and
perception is pocked with paradox."
- Stage and Cinema
---
PROMOTIONS
WATCH WITH FRIENDS
Buy a minimum of 5 tickets in a single transaction and get 1 ticket complimentary.
[Valid from 16 Aug 2019]
$15 Ticket | Bloomberg Philanthropies YOUth Programme
[Valid for 15 Sep, 3.30pm, 6.15pm & 16 Sep, 7.15pm performance only]
[To purchase, please provide any form of personal identification with your photo and date of birth to any SISTIC Authorised Agent]
[Valid for all Singapore Citizens and Permanent Residents]
[Patron must be 16 years old, but no older than 25 years old on the day of the performance]
[Limited to one ticket purchase per person]
[Limited quota available. Purchase can only be made through SISTIC Authorised Agents.]
CORPORATE / GROUP PACKAGES
For group bookings of 20 pax and more, please contact Emmanuel at emmanuel@srt.com.sg
for information on exclusive discounts and other corporate / group benefits.
ACCESS PERFORMANCES
15% discount is available for Access shows for persons with disabilities and their carers. Refer to the respective booking links below to purchase the tickets.
Audio Described Performance: 21 September, Saturday, 3.15pm
An Audio Described performance is for patrons who are Blind or Vision Impaired, who require the theatre performance to be described live by a trained Audio Describer. The performance is verbally described and transmitted to the audience members through their own mobile phone device with earphones. Click here to book your tickets for the Signed Performance, or contact SRT's Box Office at 6733 8166 for more enquiries.
Click here to access the visual story for your visit to Miaja Gallery.
Audio Described Pre-show notes (Audio Version): http://bit.ly/2lZHAnA
Audio Described Pre-show Notes (Text Version): http://bit.ly/2kRDXzX
Checklist to use the Audio Description service: https://bit.ly/2HNvEz2
Event Date

10 Sep - 6 Oct 2019
Mon - Fri: 7.15pm
Sat: 3.15pm (except 14 Sep) & 7.15pm
Sun: 2.15pm & 6.15pm
Venue
Miaja Gallery
Ticket Pricing

(Excludes Booking Fee)
Preview: S$75
Sun - Wed: S$80
Thu - Sat: S$85
(This is a General Admission Event)
Late Seating Advisory
Please arrive 15 mins before the event start time.
Latecomers will not be admitted to CAUGHT.
Rating / Age Limit
Advisory (Some Mature Content)
Duration
Approximately 2 hours 30 minutes
Important Notice
Enjoy complimentary guided tours and purchase food and drinks upon gallery opening.
Please wear comfortable shoes and note that there is limited parking at the venue.
Additional Venue Information
Miaja Gallery (off Martin Road)
9 Muthuraman Chetty Road
APS Building
Singapore 238931
Click here to find out how to get to Miaja Gallery using Google Maps.
The best way to get to Miaja Gallery, APS Building is:
By Bus
Take buses 32, 54 or 195 to 'Before Kim Yam Road' (13099) on River Valley Road, walk (7 minutes) via Kim Yam Road, Mohamed Sultan Road and turn right towards Martin Road
Take bus 123 to 'Hotel Miramar' (06151) on Havelock Road, walk (8 minutes) via Saiboo Road and Martin Road
By Train
To Fort Canning MRT Station (DT20: Downtown Line), walk (15 minutes) via Mohamed Sultan Road and turn right to Martin Road
To Somerset MRT Station (NS23: North-South Line), walk (15 minutes) via Killiney Road, River Valley Close and into Martin Road